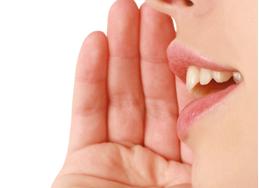 It is foolish to belittle a neighbor; a person with good sense remains silent.
Proverbs 11:12
In the classic children's movie, Bambi, there was a cute little rabbit character named Thumper. Thumper was an energetic, quick-tempered, bunny rabbit. Thumper's mother, the level-headed, authoritative, matriarch of the family, always had words of wisdom for her babies. She would appear from out of nowhere when her little ones were up to no good. When she had their attention, she would sternly pat her foot to a disciplinary beat.
My grown daughters still remember me using her classic phrase when they would say unkind words about someone: "If you can't say anything nice, then don't say anything at all!" We could all learn a lesson from Thumper's Mom!
In the Bible, foolishness is often linked to the mouth or tongue. That's probably because the tongue is one of the primary areas that get all of us into trouble. Our fallen nature makes it easier to say something negative or critical than something uplifting and positive. A conscious effort must be made to say something that will build-up one another. James 3:2 says, "If a person does not stumble in word, he is a complete man, able also to bridle the whole body." That means that if a person can control his tongue, he can control his entire body! That's powerful stuff.
James 3:8 continues, "No man can tame the tongue. It is an unruly evil, full of deadly poison." The first time I read that passage it seemed almost defeating. I remember thinking that I would never be able to conquer what came out of my mouth. Then I had a reality check. Of course I can't do it, but the Holy Spirit working in me can. I'm so thankful for the Holy Spirit who helps us in our weaknesses.
Be aware of the words you are speaking. Give the Holy Spirit permission to help you to put a guard upon your mouth. Only speak words that will build-up or lift up another person.